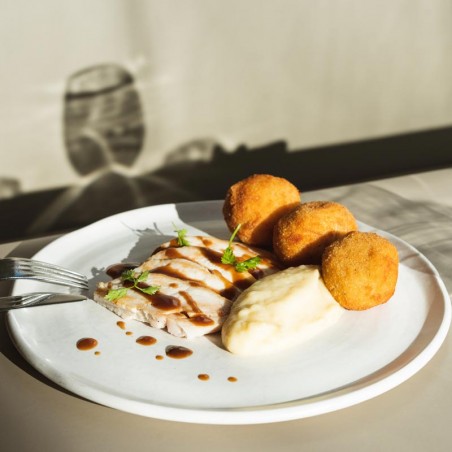  
Children's menu
Hello, family 
Of course, we're all welcome! Every detail counts, including enjoyment for the kids, and that's why we prepare this children's meal every day at our Bistroteka Zinema7.
*Valid for 1 child
Includes:
Chicken breast with mashed potato and 3 ham croquettes
Terms and conditions:
Validity: 1 year from the date of purchase.
This document does not constitute a reservation so it is necessary to book in advance via kaixo@bistrotekazinema7.com or +34 943 44 50 00.
Subject to availability on the day of the desired reservation.
Non-refundable. No exceptions of any kind, including force majeure.
Located in the Amara district, a 20-minute walk from the commercial heart of Donostia, La Bistroteka Zinema7 is a neighbourhood venue to make you feel at home. Honest and seasonal cuisine to pay tribute to the rich gastronomic tradition of our region.